Brightening Face Oil 1oz
Out of stock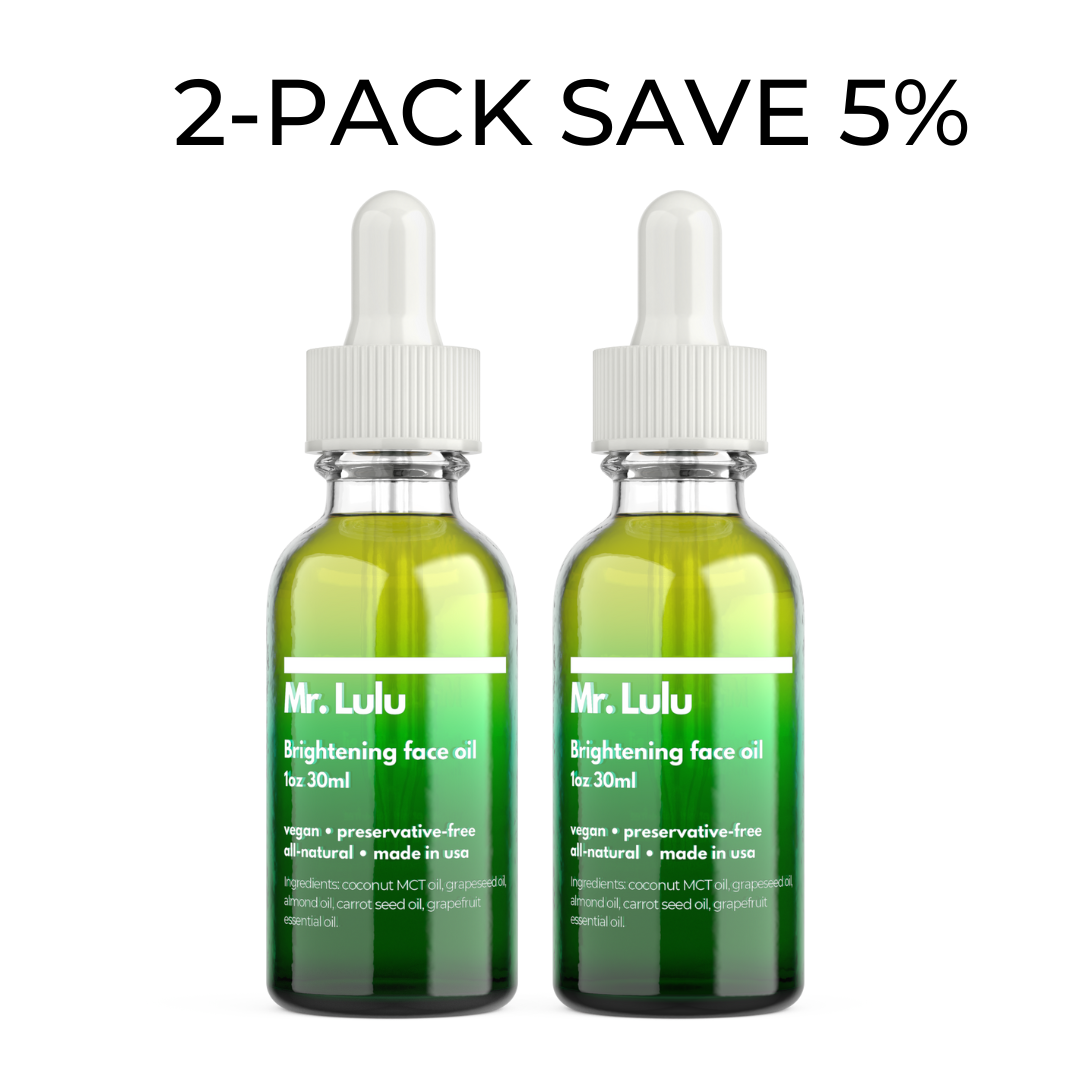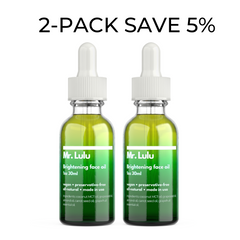 Brightening Face Oil 1oz
Out of stock
100% organic moisturizing face oil with pure and healthy fatty acids. It combines light and heavy nut and seed oils.
Results:
1. Smooth and mattified skin
2. Skin feels and looks perfectly hydrated

Good to know:
100% organic, all-natural, preservative-free, cruelty-free, petroleum-free, silicone-free, alcohol-free.
Ingredients
Full ingredients list: MCT oil, grapeseed oil, almond oil, carrot seed oil, grapefruit essential oil.
1. MCT Oil (organic)
Extracted from coconuts, it is a medium chain fatty acid. Due to its smaller molecular size, skin absorbs it easily to provide deeper nourishment.

2. Grapeseed Oil (organic)
Rich in vitamin E and linoleic acid (omega-6 fatty acid), it has powerful antioxidative abilities and is known for its anti-inflammatory benefits.

3. Almond Oil (organic)
Also rich in Vitamin E, this light oil is an effective emollient - it balances the absorption of moisture and water loss. It is anti-bacterial, and therefore good for break out reduction.
4. Carrot Seed Oil (organic)
Cold pressed and a thicker oil, it is highly nourishing. It contains Vitamin A, and is well known by estheticians as one of the best oils to target wrinkles and lines.
5. Grapefruit essential oil (organic)
Only used in very small amount. It provides an uplifting natural scent and allows to mattify skin.
Few drops
Put 2, 3, or 4 drops in the palm of one hand.
Rub hands
Rub hands together so the oil spreads all over both hands.
Apply & massage
Apply and massage over face and neck until you feel that it is starting to absorb.
Did you know?
Maximize your results. Use the Vitamin C or HA B3 Powder Serum prior.
Does not feel greasy after application
This face oil makes my skin feel perfectly hydrated by not oily and shiny. I have actually stopped wearing foundation because my skin looks so good.
Stephanie
Love the grapefruit smell
There is a light scent of grapefruit, which I love. It gives me energy when I use it in the morning and smells so fresh.
Phil
An oil that keeps my skin matte!
This is the first face oil that makes my skin look mattified. I was using lotions before and had so many breakouts. With this oil, my skin has no shine and my break outs have substantially reduced.
Claire
Organic, non-toxic... this product has it all
Natural products are important to me. I try to live the most non-toxic lifestyle possible. This product combines everything that I was looking for, and it is effective.
Veronique
Science:

fatty acids and skin's barrier
What are fatty acids?

Fatty acids are building blocks of healthy cell membranes. They help produce the skin's natural oil barrier, critical in keeping skin hydrated and nourished. By using a moisturizing product with similarities to our cellular structure, we work synergistally with our skin. We do not disrupt it.




Unhealthy moisturizing chemicals

Many moisturizers and face oils contain silicone (dimethicone), mineral oil or petrolatum. These ingredients make skincare products look good (i.e. thick and shiny), and glide smoothly on application. One problem: they are foreign to skin's structure and therefore toxic. Many of these unhealthy chemicals come from petrol. Let's be direct: how good can "car fuel" be as a base to make skincare products?

Harmful preservatives

Moisturizers are normally a combination of oil and water - this is what creates the cream texture. Due to the water they contain, they need preservatives to keep them stable. Whether synthetic (e.g. phenoxyethanol) or natural (e.g. phenethyl Alcohol, benzyl alcohol), preservatives are not good to skin and health.

The solution

I created the nourishing face oil. It is a combination light and heavy nut and seed oils (pure healthy fatty acids), which give perfect nourishment to your skin. The result: a glowing, perfectly hydrated skin.

ALEX
30 days Tingly Powder Serum & Nourishing Face Oil AM & PM daily
> Hyperpigmentated areas have brightened. Skin tone is more even.

ALISON
21 days Tingly Powder Serum, Nourishing Face Oil & Gentle Powder Cleanser AM & PM daily
> Skin is brighter. Darker areas are fading and skine tone is more even.

JEN
60 days Tingly Powder Serum & Nourishing Face Oil AM & PM daily
> Post Inflammatory hyperpigmentation has faded. Skin appears healthier.

ERIKA
90 days Tingly Powder Serum, Nourishing Face Oil, Gentle Powder Cleanser AM & PM daily
> Stubborn hyperpigmentation caused by years of acne scarring is fading and receding. Skin is smoother and visibly healthier.

LETA
14 days Tingly Powder Serum, Nourishing Face Oil, Gentle Powder Cleanser AM & PM daily
> Dark spots are fading and diminishing in size.
ANGI
30 days Tingly Powder Serum & Nourishing Face Oil AM & PM daily
> Sun spots have faded. Skin has brightened and reflects light.

ANGI
30 days Tingly Powder Serum & Nourishing Face Oil AM & PM daily
> Break outs have diminished. acne scars have faded.

Do you have any questions?
Use morning and night after the Tingly Powder Serum or another serum of your choice. 

You might want to reapply during the day for extra nourishment.


2 to 4 drops would be about normal. This might depend if you use for face only, or also include the neck and decollete area. This might also depend on climate's humidity levels and seasons.

3.How quickly should I see results?

When used with a Mr. Lulu Tingly Powder Serum, people see usually see results within 3 days.
This may depend on your skin's condition, what you have used before and what you use in conjunction.

4.Why is preservative-free better?

Preservatives are toxic and irritating ingredients to skin and any human organ. Their molecular weight is small enough to be penetrate thde dermal layers. When you are able to formulate products without them, we allow the active ingredients to work with no interference. This leads to healthier skin and more visible results.

Read my blog section where you can find resources that give more details on preseravtives, their toxicity and how they unfortunately penetrate skin.


5.Is the product toxic-free and all-natural?

Yes of course. 

Mr. Lulu knows how to work with natural ingredients in their stable and potent forms. 

Many companies add synthetic and toxic ingredients but Mr. Lulu is against them.

Other products you might like